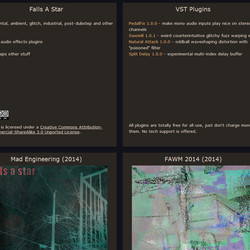 Falls A Star has released SplitDelay, a free experimental multi-index delay buffer effect plug-in for Windows.
A standard delay effect consists of a buffer and an index which moves linearly across it, looping back to the beginning like a magnetic head on a tape loop.

But instead of a single index, SplitDelay has multiple indices and rules for determining what to do with them. This makes it very messy and noisy, in hopefully interesting ways.
SplitDelay for Windows (32/64-bit VST) is available as freeware.
More information: Falls A Star