FeelYourSound has announced the release of MidiMidi for Mac OS X.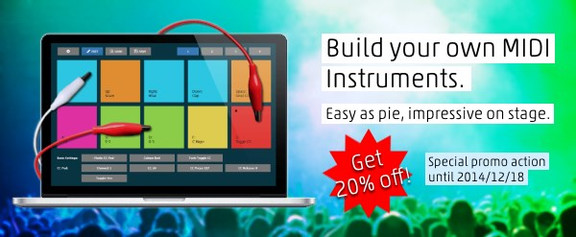 The software converts the input of the successful Kickstarter project MaKey MaKey into MIDI notes, MIDI controller values, and MIDI chords. MidiMidi is available for Windows as well, the new version 1.1.0 includes additional presets and settings.

As shown in the video below, the combination of MidiMidi and MaKey MaKey makes it possible to turn any conductive material like fruits or metal into touchable areas for MIDI triggers. This way it is easy to build own MIDI controllers, MIDI drum kits, and MIDI instruments without any soldering or the need for a degree in engineering.
MidiMidi features
The gaming centered key settings of MaKey MaKey are turned into real MIDI data.
Support for MIDI notes, chords, and MIDI controller values.
A special toggle mode starts and stops notes or loops with two touches.
Many scale and chords presets are included (e.g. Major, Minor, Phrygian,…).
Useful settings for live situations like "Always on top" mode or "Transparent window mode".
Ten keys can get remapped, four banks are available to organize the settings.
It's possible to define own keymappings to turn the computer keyboard into a MIDI controller as well.
MidiMidi is available for the introductory price of 19 EUR / $23 USD until December 18th, 2014 (regular 24 EUR / $29 USD).
More information: Feelyoursound