FeelYourSound has released version 2 of XotoPad, a software that turns any Windows multi-touch device into a full-featured MIDI controller with chords, scales, faders, and more.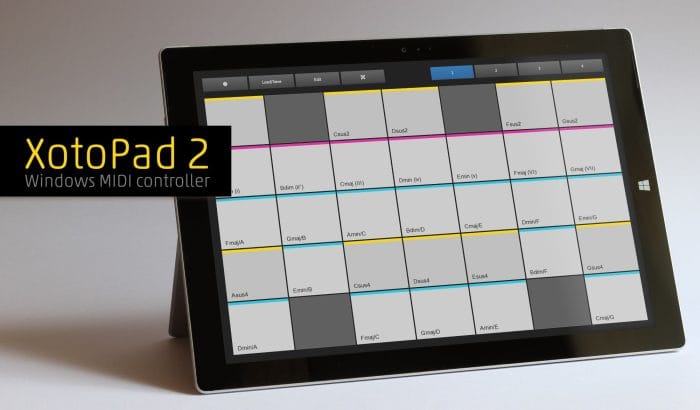 Designed for both travel and studio productions, XotoPad is the perfect choice to quickly sketch and refine musical ideas. The clear interface gives you everything you need to play virtual instruments on the go, sketch chord progressions, create dynamic beats, and control effects inside your DAW.

Use the built-in setup wizards to fill four different banks with fader boards, chord collections, scale keyboards, and other controllers. All it takes are a few clicks to get everything you need right at your fingertips.

XotoPad includes over 300 scales and chord pages. From western essentials like Major and Minor to exotic Indian ragas: This huge collection makes writer's block a thing of the past.
XotoPad 2 features
Turns any Windows multi-touch tablet into a MIDI controller.
Many different controls: Note pads, drum pads, sliders, faders, CC buttons, x/y pads,…
Helpful setup wizards for scale keyboards, chord pages, and effect controls.
Tight integration with Windows: Windowed and full-screen mode, window transparency, "always on top" mode, undo/redo. XotoPad remembers the last position and size on close.
Press "x" to maximize screen space.
Two different colour schemes.
Built-in instruments to jam around even without a connected DAW.
Buy once, get updates for free forever.
Over 300 scales and chord collections included for jamming with virtual instruments.
XotoPad is available for purchase for the introductory price of 29 EUR / $32 USD until October 15th, 2015 (regular 35 EUR / $39 USD). The update is free for all existing customers of XotoPad.
More information: Feelyoursound