Wobblophones has announced the release of Ferrophone, a new Kontakt instrument library.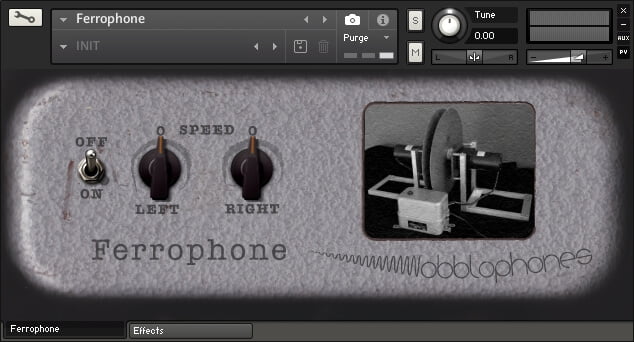 Halloween is approaching and you might be searching for something special to horrify your audience. If that's the case, we can assure you that Ferrophone is our darkest and spookiest sample library so far.

No need to drag scrap metal across your studio. Ferrophone will get under your nails, pierce your ears, and will give you goosebumps. This instrument is a sinister machine that's designed for creating dark, scary, doomy soundscapes and creepy atmosphere. But it also works great for releasing some tension and frustration.
Ferrophone features
740 MB of precisely recorded from Ferrophone samples (Installed size approx. 600 MB using lossless ncw compression).
17 snapshots.
11 snapshots optimised for Ferrophone's discs rotated by motor.
6 snapshots optimised for bowed playing of Ferrophone's discs.
All samples recorded at 44.1 kHz, 24 bit.
A great library full of metallic horror sound design potential.
Ferrophone costs $30 USD / 25 EUR / £22 GBP. A 15% introductory discount is offered until October 13th, 2016. Ferrophone requires Kontakt 5.5.2 or higher (full version).
Also released is Chaotics, a bundle of 3 free synthesizer modules for Native Instruments' Reaktor Blocks.

Chaotics is a collection of three chaotic synthesizer modules made for the Reaktor Blocks format. Each Chaotics block has its own character:

Feedback Sine: a chaotic generator that can sound like a guitar with feedback, an angled grinder or even a plain old sine oscillator.
Tinkerbell Sin: based on the classic Tinkerbell chaotic map, this generator has a relatively high frequency, but tends to remain somewhat "pitchy".
De Jong Chaos: runs the De Jong strange attractor. It tends to produce lower frequency outputs than the other two, while also sounding a bit more gentle when properly chaotic.
Chaotics is a free download at Wobblophones.
More information: Wobblophones