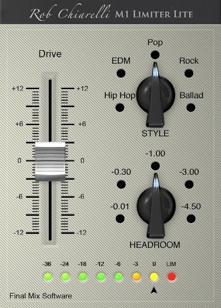 Final Mix Software has announced the release of M1LimiterLite, a new addition to the Rob Chiarelli Signature Plug-Ins series.
The M1LimiterLite is a transparent compressor and brick wall peak limiter with intelligent attack and release controls. The Input control drives the limiter section to make your mixer as loud as possible without overloading the Output. The Headroom control allows you to easily select the perfect output level for Digital Releases, CD Burning, Video Broadcast or for sending to a Mastering Engineer.

And the amount of level you can get WITHOUT creating a mess in the low end is astonishing. Eliminate the doubt. With the M1LimiterLite, your mixes will be at the correct level every time. And you will NEVER lose the level war again.

We should have named the M1LimiterLite the OMG plugin.
M1LimiterLite for Windows and Mac (VST/AU/AAX) is available for purchase for $24 USD.
For GRAMMY week only, just enter the Coupon Code FMSROCKS and get a 20% discount on ANY software purchase. Good until Sunday, Feb 8th at Midnight!
More information: Final Mix Software