Findasound has released Petra Strings Phrases, is a set of 17 oriental strings sessions recorded by various artists with various keys and tempos.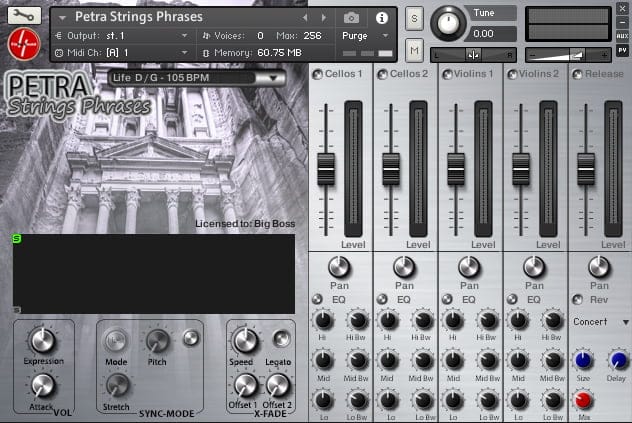 The library includes four tracks for each session; two cellos/violas and two violins tracks. The number of instruments on each track varies depending on the session itself and how it was recorded. Release samples track is also provided and can be turned on/off, user can control level, pan, and EQ of each track separately.

Reverb effect with real rooms IR samples is added and can be toggled on/off for all sessions where users can control it's size, mix, and delay. Sessions can be selected from a drop down menu where only selected session's samples are loaded into ram to reduce ram usage and keyboard keys color will indicate used keys for each session. Recordings are in different "maqams" – scales , keys, and tempos that are included in each session's name.
Petra Strings Phrases features
Legato, X – fade between phrases.
Expression and attack controls of all sessions.
Fully automated interface.
17 sessions.
Reverb with real rooms IR samples.
3 sync modes.
Level, pan, and EQ of each track separately.
4 tracks for each session.
Release samples track.
Ram loading optimized.
44 100 Hz, 24 bit stereo samples.
2,197 ncw kontakt samples / 1.22 GB.
The library is available for $99 USD. Requires Kontakt 5.4.1 or later (full version).