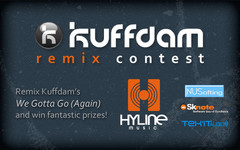 Findremix has announced the Kuffdam – "We Gotta Go (Again)" Remix Contest in collaboration with Hyline Music.
'We Gotta Go (Again)' is Kuffdam's new collaboration with vocalist Grant Paterson and it's one of the standout tracks from his new 'City Lights' album that is sure to be supported by the top trance DJs in the industry.

Download the free 'We Gotta Go (Again)' stems and get started on remixing this big room trance monster in your own unique style.
Closing date for submissions is October 23rd 23:59:59 GMT+1 (Central European Time).
Winners will get released on Hyline Music plus prizes by NUSofting, Sknote and Tek'it Audio.
Visit Findremix for more information.