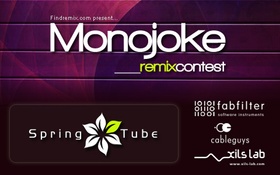 Findremix has announced the Monojoke – "Hold Me Down" Remix Contest in collaboration with Spring Tube.
Simply put, progressive breaks deserve far more recognition in the world of beats. Rising through the noise has come Polish house producer and electrical engineer Jacek. Residing in his hometown, the artist produces under the name Monojoke and began his interest in EDM with exposure to Goa and psytrance. However, his passion evolved into an obsession after an introduction to the progressive breaks scene and nowadays he is already its one of the most respectable representatives.

Today together with Spring Tube label and Findremix Monojoke is offering the long-awaited chance to remix his track and it's absolutely new work from him titled "Hold Me Down" which is in a best traditions of his unique sound.

Monojoke and Spring Tube hopes to find at least 3-4 winning remixes from the entrants. Genre preferences: progressive breaks, progressive house, progressive trance, tech house, deep house, chillout, downtempo. All the entries will listen Monojoke and Spring Tube's representatives themselves, and together they will choose the brightest works.

As well as having their remix released on Spring Tube, the winners will also get their hands on a whole heap of great prizes from Fabfilter, XILS-lab and Cableguys. Good luck to all contest's entrants!
The closing date for submissions is October 30th 23:59:59 GMT+1 (Central European Time).
Visit Findremix for more information.