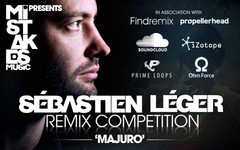 Findremix has announced the launch of the Sébastien Léger – "Majuro" Remix Contest in collaboration with Mistakes Music.
Sébastien Léger effectively hands the keys of his Mistakes Music label to his fans today, with an exciting new remix contest run on Findremix!

The Frenchman is offering aspiring electronic music producers the chance to remix his 2008 hit 'Majuro' for his high profile label. The single is one of the biggest releases in the imprint's history. "'Majuro' is a real Mistakes Music classic, both in terms of sales and also in terms of impact," said Sébastien Léger from his Amsterdam studio.
Contest winners will get their remix released on Mistakes Music, and prizes are available from Propellerhead, SoundCloud, iZotope, Ohmforce, and PrimeLoops.
The contest deadline is July 31st 23:59:59 GMT+1 (Central European Time)
Visit Findremix for more information.