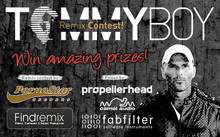 FindRemix has announced the Tommyboy Remix Contest, a new remix contest, which is run in collaboration with PornoStar Records and supported by top audio software companies Propellerhead, Camel Audio and FabFilter.
We are offering the opportunity to win a release on PornoStar Records, a copy of Record Reason Duo, a copy of Alchemy synth plus one soundback and FabFilter's plugins Pro-L, Twin 2 & Micro. Pretty good isn't?

You have to remix the track "Paradise House" from Hungarian top producer Tommyboy (Yoshitoshi, Renaissance, Stereo Records…). His tracks are well-known on Beatport's Top 10 and he has played in most of the best clubs in Europe like Pasha Budapest, Peter Pan, The Cross, Ministry of Sound or El Divino.

Be professional! You have until November 22nd to submit your entry.
More information: Findremix