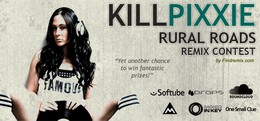 Findremix and Drops have launched the Killpixxie – "Rural Roads" Remix Contest.
Killpixxie, a new comer to the scene in 2011, is the protege of the canadian based duo Beat Syndrome, who debuted last year on the label Drops by Liquid Inc with her first ever release by the name of Rural Roads, which included the the track sharing the same name. The sentiment was at the time for the label heads was that its not very often when they come across a new developing artist with such passion and drive for music and production delivering high quality and innovative music. this resulted in the immediate signing of this release and mainly due to the intricacy and innovation showcased in the track Rural Roads.

Now you have the chance to remix this track and win a release on Drops plus prizes from MeldaProduction, Softube, SoundCloud, Mixed In Key (including their new Mashup software) and One Small Clue.
Closing date for submissions is April 15th, 2012 23:59:59 GMT+1 (Central European Time).
More information: Findremix