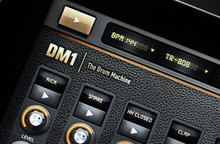 Fingerlab has announced the DM1 The Drum Machine, a new advanced drum machine for iPad.
We have been closely monitoring and testing any iPad drum machine since the iPad was released and have decided we could do better, smarter, cooler. Which is why DM1 now takes the multi-touch beat making experience one step further by unifying in one hyperrealistic and beautiful powerful application the smartest tools for beat drumming with the best vintage drum kits. Created for a lot of instant fun.
DM1 features
Graphic design by Jonas Eriksson.
Smart ergonomy for fast creativity and fun.
24 vintage and produced drum kits, mastered at in-house Fingerlab Sound Studios.
Mixer page with pitch, length and level rotary controls and individual sound loading per channel.
Fast drum kit loading.
Playable pattern selection for extra creativity.
9 Big Drum pads, quantized recording and MPC-like Repeat touch-stripe.
Step Sequencer with multi-touch matrix for unexpected beat creation.
Duo FX Trackpads for real-time sonic destruction and multi-FX.
Mode song with intuitive editing.
High-quality export to email or iTunes shared folder.
DM1 for iPad will launch July 7th for an introductory price (regular price $7.99 USD).