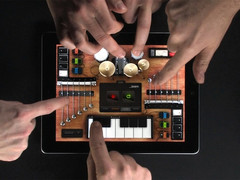 Fingerlab has announced the release of Rockmate, available now on the App Store.
Rockmate turns your iPad into a complete music studio easy and super fun to use. You can compose, record and play songs with up to 4 Rock players on one single iPad. Rockmate is easy to play with smart chords progressions, sounds great with separated guitar effects and in-house produced audio samples and is also fully customizable with multiple drums and keyboard styles.

Rockmate is ready to rock ! Your guitars are always well tuned, no need to carry your drum kit or to patch your keyboard. A smart metronome and a real-time looper will assist you in composing and recording your songs. That you can share by email or in your iTunes sharing folder.
Rockmate features
Realistic design and animations.
High-quality samples.
4 players on one single iPad.
Realtime looper.
Smart metronome.
Mixer with level and pan controls.
Realtime Fx (distortion, multiFX, powerchord).
Chords progression customizable.
Create your own chords.
Save your styles (Chords progression, FX, Drum, keyboard style…)
Export: .wav or .aac.
Sharing: iTunes sharing folder and Email.
Airplay.
Rockmate is available to purchase for the introductory price of $0.99 USD until December 21, 2011 (regular $3.99 USD).