Plugin Boutique has announced an exclusive flash sale on the Syntorial training software by Audible Genius, offering 40% off regular for a few days only.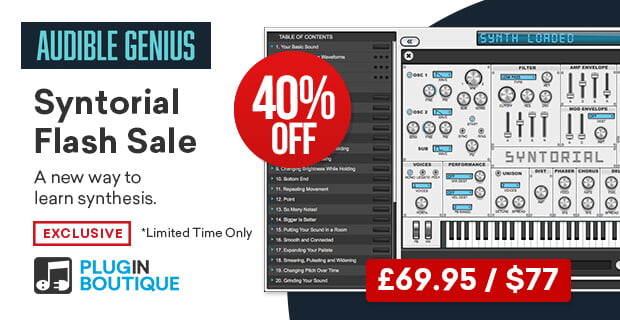 Syntorial doesn't just show you how synth programming works. It engages you in 129 Interactive Challenges in which you have to program patches on a built-in synth. You aren't just learning how to design sound, you are becoming a sound designer.

This isn't your ordinary synth tutorial. This is Syntorial. A video game-like training software, that will teach you how to program synth patches by ear. With almost 200 lessons, combining video demonstrations with interactive challenges, you'll get hands on experience programming patches on a built-in soft synth, and learn everything you need to know to start making your own sounds with ease.
Syntorial is £69.95 GBP / $77 USD until January 6th, 2020. The included Primer synth comes as a VST/AU plugin for Windows and Mac.
More information: Audible Genius