Plugin Boutique has launched a sale on the Elements series of plugins by iZotope.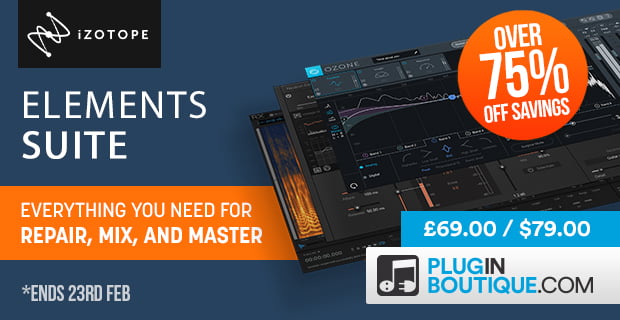 Both the individual Ozone 8 Elements, Neutron 2 Elements and RX 6 Elements plugins, as well as the Elements Suite bundle are included in the sale.
iZotope Elements Suite combines three powerful, award-winning audio technologies in one package.

For hobbyists and home studios, the Elements Suite is the fastest way to get up and running with iZotope, an industry-leader in empowering audio technology. Born from years of audio research and development, RX Elements, Ozone Elements, and Neutron Elements are now available in one convenient bundle that not only elevates your audio production, but inspires and enables your creativity.

It's everything you need… Whether you're recording and editing a podcast, cleaning up guitar tracks or vocals, mixing your first record or your hundredth.
The Elements Bundle is on sale for $79 USD, while individual Elements plugins are $29 USD each. Prices ex. VAT.
The sale ends February 23rd, 2018.
More information: Plugin Boutique