Fluffy Audio has released Scoring Piano, a sampled Steinway Model B piano instrument for Native Instruments Kontakt.
This instrument will find a perfect spot for any kind of soundtrack and, like My Piano, for jazz and classical music. We have tried to take the softest dynamics particularly into account. Moreover, thanks to our Dynamic Range Control, it is very easy to achieve that "Thomas Newman" cinematic sound. In addition to this, Scoring Piano features a great dynamic range, enabling you to play any kind of music genres.

Our new instrument features lots of sound crafting controls, EQ, Reverb, three mixable mic positions and controls for pedal resonances and noises. We have avoided to include fancy effects, like delay, compressor and so on. Not only the quality of these effects in Kontakt is up to debate but also we have simply aimed at a great natural sounding piano.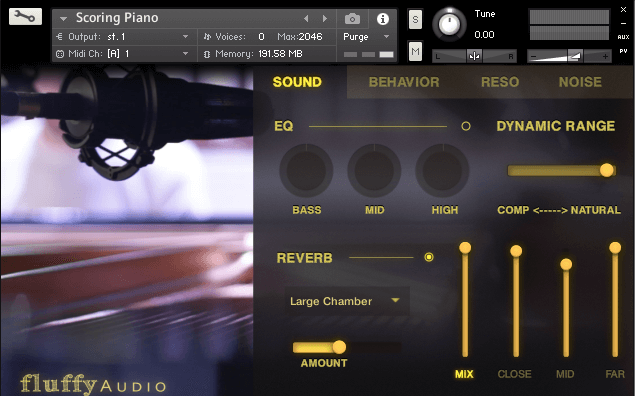 Scoring Piano features
20 GB installed.
Three Mic Positions (Close, Mid, Far) + Mix Position.
From 7 up to 40 velocity layers per key (average 15 velocity layers per note).
Sympathetic Resonances and Pedal Resonances.
Velocity Behavior Control.
Self Masking for polyphony control.
Separate pedal down resonances and pedal noise control.
Scoring Piano for Kontakt is available for the introductory price of $99 USD until December 1st, 2016 (regular $129 USD).
More information: Fluffy Audio / Scoring Piano