Sound Dust has released Flutter Dust Module, a "21st Century Mellotron" instrument for Native Instruments Kontakt.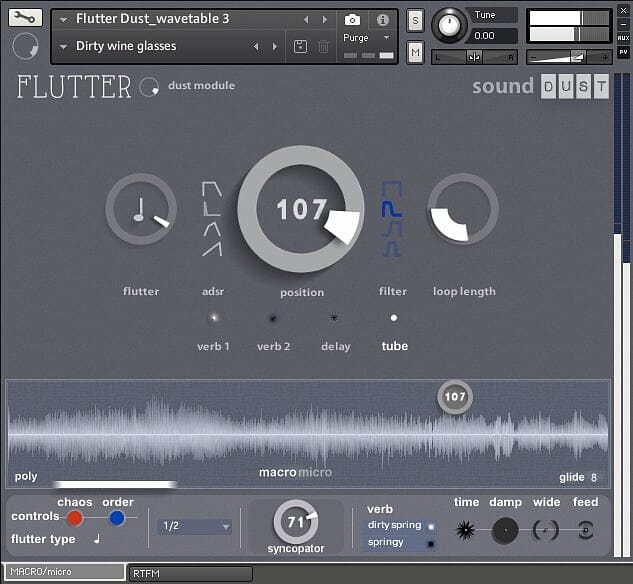 Flutter Dust Module is a new Kontakt sample instrument that uses long and complex multisampled acoustic 'wavetables' that scan in real time to create beautiful organic, evolving and un-expected new sounds.

Like the Mellotron, Flutter Dust Module is based on recordings of acoustic instruments– but the extra functionality of the Kontakt engine takes the Flutter Dust Module to places of which the tape-based Mellotron could only ever dream.

Creating woozy, ghostly versions of real world timbres, users can just move the playhead position or loop points to construct new sounds – punch-drunk orchestral pads, delicate flute-otrons, majestic organ-celeste, complex poly rhythmic Phillip Glass scapes…and more, all at the click of a button (well, a few buttons).
Flutter Dust Module features
1.3GB (compressed) 24bit stereo samples.
Three multisampled, five octave wavetable sets.
Six .nki instruments in two variations LOOPER and Wavetable.
160 snapshot sound presets.
Acoustic wavetable sample sets made from cunning variations of Sound Dust favourites.
Micro and macro pages for easy or deep editing.
BPM synced trigger repeat modes: saved per note or for whole keyboard.
Chaos and order controls: for instant parameter randomisation and re-organisation.
Flutter control: modwheel hard wired to unique 'flutter' effect.
Effects – adjustable per note: two convolution reverb and one delay send, chorus (Wavetable), filter LFO (LOOPER), autopanner (Wavetable).
20 custom reverb convolution impulses.
Poly, mono, legato and glide modes.
RTFM tab -so you can't lose the manual.
Flutter Dust Module for Kontakt 5.5.1 or above (full version) is available for purchase for £35 GBP. Through June 26th, you can save 20% off with coupon code TABLEWAVE at checkout.
More information: Sound Dust / Flutter Dust Module