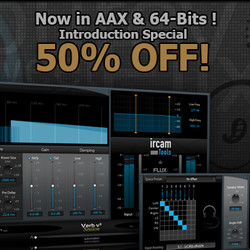 Flux has announced the release of the AAX Native and 64-bit compatible versions of IRCAM HEar – Binaural encoder and IRCAM Verb Session – Algorithmic session reverberation processor, built on its new Version 3 (v3) framework. Additionally, its other plug-ins have been updated to v3.1.1 Build 31018.
Version 3 Framework

The v3 framework improves the performance dramatically and for the graphic rendering it includes a GPU-efficient 2D/3D graphic engine, first introduced in the Pure Analyzer System, based on the OpenGL standard optimizing the audio-to-visual experience utilizing the GPU on the computer's built in graphics card.

With the Flux:: v3 framework support for OSC (Open Sound Control) is introduced in order to allow for remote control of the plug-in parameters using OSC enabled devices and software applications such as TouchOSC for iPhone / iPod Touch / iPad.
IRCAM HEar v3 and IRCAM Verb Session v3 are available on 32- and 64-bit Mac OS X and Windows in AU, VST and AAX Native plug-in formats. The plugins are available to purchase at an introductory 50% discount for a limited time. The updates are free of charge to users of previous versions of the software (or a bundle containing it).
Changes in Flux plug-ins v3.1.1 Build 31018
New IRCAM Tools – HEar v3.
New IRCAM Tools – VerbSession v3.
Fix: Mac OS X: v3: Compatibility issue with last iLok drivers and wrapped product.
Fix: Epure v3 AAX: frequency displayed on user interface was not the good one.
Fix: Epure AAX 64-bit: Presets not loading correctly depending on the order in which they are selected (Avid: THP-2546).
Fix: Epure AAX 64-bit: Values change when activated for automation (Avid: THP-2547).
Fix: Epure AAX 64-bit: I/O Routing don't go back to previous state when checking and unchecking Link I/O Routing (Avid: THP-2548).
Fix: Elixir V3 AAX 64: Automation not working for 'Diff.', 'Make Up' and 'Stages' (Avid: THP-2550).
Fix: VerbV3: Bug in Studio One.
Fix: Mac OS X: Audio Unit: v3: iLok authorisation issues.
Fix: Instantiation time (too long).
Fix: Windows: Bittersweet V3: does not install.
Fix: ElixirV3 and BitterSweetV3: don't bypass in Pro Tools.
Fix: Mac OS X: Cannot load Ableton Live when these are installed.
Fix: lots of other minor things.
Known issue: Windows: SampleGrabber v3 AAX 32-bits: sometimes not working on some system with ProTools 10.3.6, 10.3.7; if so, please continue using the old RTAS version (PAS_SP2b).
Known issue: Mac OS X: Audio Unit: Verb v3: – Morphing not 100 % working.
Note: On Windows, due to deep change in the installer, it is recommended to uninstall previous versions before installing this new one.
More information: Flux