Flux has announced that its plug-ins and bundles are now available in AAX HD-X versions.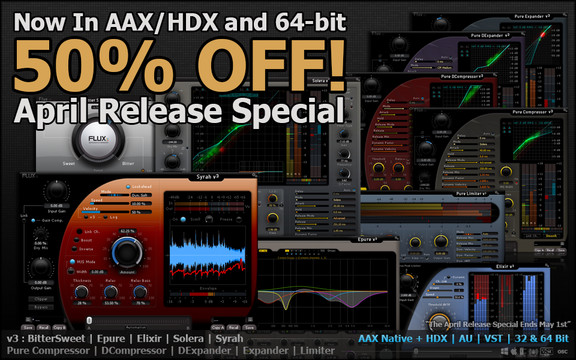 Today with the release of Syrah v3 we also release the +AAX DSP version for the AVID HD-X platform of all our bundles, including Dynamix Pack 1.1 and Full Pack 2.1

All our Flux:: series plug-ins are now available in v3 versions, AU/VST/AAX Native/AAX DSP in 32 and 64 bits, with the exception of Alchemist that still is 32 bit and AU / VST / RTAS only, but will during May 2014 be released in AAX Native & 32/64 bit, as a FREE upgrade for all owners of the plug-in or a bundle that contains it.

As with all our v3 plug-ins, our bundles are available in two different product versions:

* Native – supporting AU / VST / AAX Native
* +AAX DSP – supporting AU / VST / AAX Native / AAX DSP

All current owners of any of our AAX DSP licences will, in addition to the AAX DSP/Native version, from today also be able to use the Native v3 versions (AU / VST ) of the AAX DSP software they own. Simply download the corresponding Native v3 installer and install it.
The Flux Series plug-ins and bundles are 50% off through April 2014.
More information: Flux