Flux has announced the release of its next-generation channel strip effect plugin.
EVO Channel is designed to be as efficient, fast and hands-on, adding the advantages of creative digital innovation in terms of workflow and sound, providing everything you need to stay in control of your sound.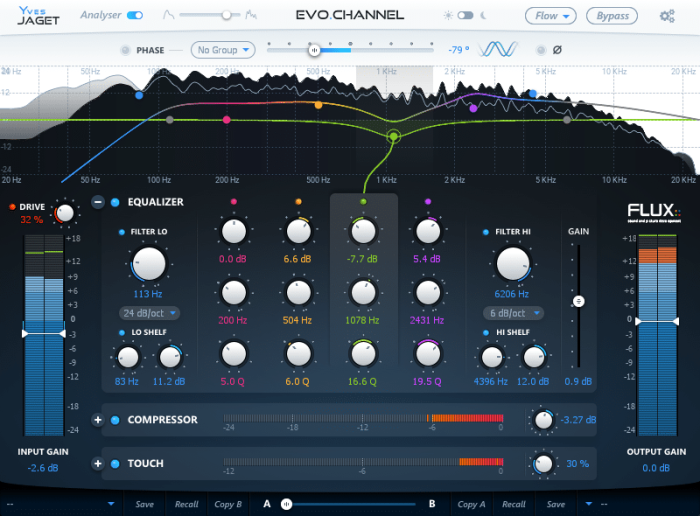 The Evo Channel is an adaptable module-based channel strip plug-in comprised of 5 highly innovative audio processing modules that include Drive, Phase, EQ, Compressor, and "Touch" an original polymorphic frequency dependent dynamic tool (DeEsser, Expander and a Transient / Sustain Designer).

Evo Channel also contains its own highly original elements such as free-form linear phase adjustment, an optimized compressor with 9 selective types (for instrument and bus groups), and a unique multi-tool module "Touch" to process transient material in a defined frequency range and lots more.

With complete multi-channel support for Dolby Atmos and Ambisonic systems for post-production, the Evo Channel is the go-to plug-in for any sound engineer that needs an ultra-precise great-sounding channel strip that's fast and easy to tweak. Evo Channel is available in the AAX Native and Audiosuite, AU, VST, and Waves WPAPI formats making it available in all professional situations. Evo Channel also handles High-Resolution DXD Audio with sampling rates up to 384 kHz is supported.
EVO Channel features
An adaptable module-based design that allows free movement of channel strip modules into any order.
An optimized Spectrum Analyzer derived from Flux's acclaimed "Pure Analyzer" software. It offers a truly accurate overview of the frequency range.
"Drive", a Soft Saturation module that simply adds analog warmth to your audio tracks.
A Flux designed Linear Phase correction tool with zero latency.
A proprietary "State-Space" technology Parametric EQ and filters that have been carefully tuned to preserve optimal signal to noise ratio independently from parameter settings.
A "multi-mode" Compressor taken from the acclaimed Flux:: "Pure Compressor's" engine. It offers 9 types of compressors in a single module (Start, Kick/Snare, Overhead, Drum Bus, Bass, Acoustic, Piano, Vocal, and Mix). It moreover offers a unique auto adaptable release control as well as parallel wet/dry features and other useful parameter adjustments.
"Touch", a multi-tool module defined by 7 specific modes such as: Transient Boost, Transient Kill, Sustain Boost, Sustain Kill, DeEsser 1, DeEsser 2, and Expander. Each of the 7 modes obviously act on a specific frequency range of the incoming audio signal.
Dolby Atmos and Ambisonic support with up to third order 16 channel. High-Resolution DXD Audio with sampling rates up to 384 kHz is supported.
Memory location store and recall for input and output gain controls and all parameter knobs for quick access level and value changes.
50 useful Factory presets included from Yves Jaget.
EVO Channel (VST/AU/AAX) is available for $149 USD / 129 EUR.
More information: Flux