Plugin Boutique has launched a sale on the Flux Studio Session Pack, a plugin bundle featuring a collection of essential Flux plugins.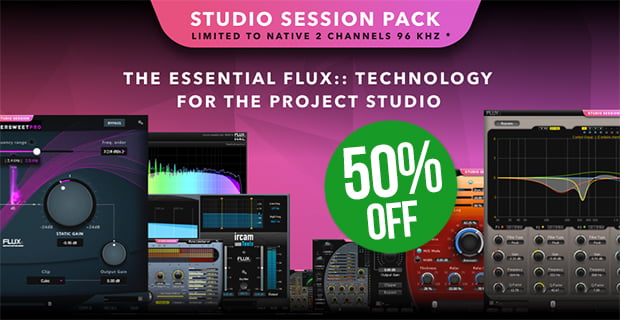 Today it's a common thing to record and produce music with a Project Studio setup, and as we think there should never have to be any compromise to the sound quality we introduce the Studio Session Pack, offering some of our finest recording and mixing tools, the Flux:: Essentials, in a comprehensive bundle for the Project Studio.

The Studio Session Pack was created specifically with music production and project studios in mind, and the Studio Session version of the software included in the bundle have been revised to meet these requirements and differs slightly from the standard versions.
Flux Studio Sessions Pack features
Pure Compressor V3 offers everything you would expect from a compressor, ranging from clean transparent subtle processing to classic heavy pumping.
Pure Expander V3 is a powerful versatile processor capable of anything from mild expansion to hard noise gating, perfectly suited for soft downward expansion to clean up spillage on (live) recordings, remove noise, reverberation and leakage from drum sessions.
Pure Limiter V3 makes transparent limiting easy; a dramatic increase of the average audio level can now be accomplished without damaging the perceived audio quality, with the exquisite proprietary Flux:: technology generating a release envelope assuring that no artifacts on the processed sound are produced.
Epure V3 is a state-of-the-art five-band equalizer designed to provide the absolute finest audio quality within the domain of digital audio processing, carefully tuned with Flux:: proprietary State-Space technology, to preserve the optimal signal to noise ratio independent of the parameter settings, preventing the signal from deteriorating when the gain is reduced.
Syrah V3 is a new generation dynamics processor using real-time dynamic detection and level dependent processing, to provide adaptive dynamic capabilities, which mean that Syrah is always trying to adapt its processing to the music and to the beat of the material.
BitterSweet Pro V3 is built around a new improved design of the algorithm found in our acclaimed freeware transient processor, BitterSweet, used by hundreds of thousands of users all over the world, and the approach we had when designing BitterSweet Pro was to make it just as easy and straightforward to use.
Verb Session V3, based on the same supreme technology used in the acclaimed Ircam Verb, is tailored for simplicity with a fast paced workflow well-suited for situations where the perfect result has to be achieved within seconds.
Pure Analyzer is a stand-alone application providing a comprehensive range of analyzer options for any imaginable audio analysis and measurement applications.
Also on sale is the IRCAM Studio bundle, which includes Verb v3, Verb Session v3, TRAX Transformer v3, TRAX Cross Synthesis v3 and TRAX Source Filter v3.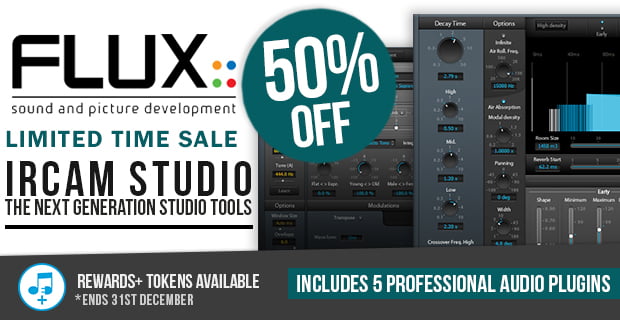 IRCAM Studio
Ircam Verb v3 is an algorithmic room acoustics and reverberation processor. It has a modular construction, employing a recursive filtering reverb engine, reproducing and synthesizing the specific acoustical characteristics of any spatial sound environment.
Tailored for simplicity, with a fast paced workflow well-suited for situations where the perfect result has to be achieved within seconds, Verb Session v3 presents the ultimate solution whether you are a seasoned session engineer or a demanding broadcast and post-production mixer.
Ircam Trax Transformer v3 is based on an augmented phase vocoder technology, and a cutting edge transformation algorithm, allowing for manipulating characteristic properties of a voice such as gender, age and breath, and on any other sound; expression, formant and pitch.
Ircam Trax Cross Synthesis v3 utilizes a phase vocoder (the amplitude and the frequency/phase spectra), to morph the spectral characteristics of two sounds. The amplitude and frequency/phase spectra can be blended continuously and since the features that are used here are strongly nonlinear, the sound morphing is nonlinear as well, offering a way to create a wide range of new exciting and unusual sound effects.
Ircam Trax Source Filter v3 is based on a signal model decomposing the signal into a time envelope describing the energy/loudness contour of the sound, and a spectral envelope describing the spectral colour of the sound timbre.
The Flux Studio Sessions Pack and IRCAM Studio Bundle are available from Plugin Boutique at a 50% discount until December 31st, 2016.
More information: Plugin Boutique / Flux