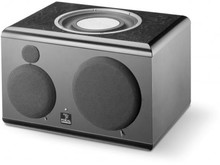 Focal Professional has announced the SM9, a monitoring system is born from a simple idea: create the most dynamic, sonically transparent and accurate monitoring system ever built.
One of the many innovations within the SM9 are the two independent monitoring systems housed within the same speaker cabinet: a 3-way monitor equipped with a 1″ pure Beryllium inverted dome tweeter, a 6.5″ midrange driver, 8″ bass driver and an 11″ passive radiator; and the same cabinet includes a 2-way monitor utilizing the same inverted dome tweeter and a 6.5″ midbass driver.

Three buttons on the SM9 side panel offer direct access to the different modes of operations: Stand By, Direct, and Focus. 'Focus' mode (a Focal exclusive) activates the 2-way monitoring system, which engages a separate crossover and other circuitry creating a truly alternate 2-way speaker from the 3-way full-range monitor. The 'Direct' mode allows the engineer who is not using the rear EQ section, to entirely bypass it for an even cleaner and direct signal path. This feature is also perfect for acousticians willing to use an external room EQ. 'Stand By' simply mutes the monitor and puts it in a low-power mode.

The all-new, all-analog amplifiers developed specifically for the SM9 offer no compromise: 600 watts of class-AB amplification drives the SM9 on three separate channels, respectively 400 W (woofer), 100 W (midrange) and 100 W (tweeter). These new amplifiers have a bias current between class-A and class-AB.

The low-noise input stage is equipped with various adjustments allowing the engineer or acoustician to compensate for any room anomalies and optimize the monitor's response in the studio. Six detented knobs on the back panel offer low and high shelving filters, variable EQ filters for bass and midbass, (which also serves as a desktop notch filter to tame unwanted console reflections), midrange EQ, and a flexible high-pass filter.
The Focal SM9 studio monitor system is set for release in Q1 2011, independent left and right speakers are offered at a suggested retail price of $3995 USD each (estimated street price $3595 USD each).
More information: Focal Professional / SM9