Focusrite has announced iTrack Dock, a complete music recording solution for the iPad.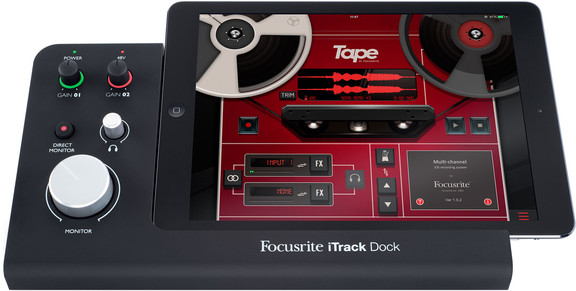 iTrack Dock is a comprehensive studio-quality iPad recording interface, featuring dual legendary Focusrite microphone preamps plus two line inputs and an instrument DI, independent stereo monitor and headphone outputs, and a USB port for class-compliant MIDI instruments and controllers. iTrack Dock provides everything required to record, monitor and control music on Lightning iPads – with precision Focusrite digital conversion at up to 24-bit, 96kHz sampling. It even charges and powers the iPad at the same time.

Perfect for songwriters, musicians and home recordists who want to take advantage of their studio gear alongside the simplicity of iPad, iTrack Dock was designed to provide a comprehensive recording, monitoring and control solution for iPad users. iTrack Dock is easy to use and provides all the control and functionality you'd expect in a traditional recording interface.
iTrack Dock features
The Focusrite recording dock for your iPad: Sleek Focusrite industrial design provides the perfect platform to dock, charge and record music with the new generation of iPads – iPad(4th Gen) / iPad Air / iPad mini / iPad mini with retina display.
Record and monitor at superior resolution: iTrack Dock is the best sounding iPad-based workstation, featuring premium Focusrite A-D/D-A conversion with over 105dB dynamic range, operating at up to 24bit, 96kHz sample rates.
Legendary Focusrite mic preamps: Two Focusrite mic pres, as featured in the Scarlett range of USB audio interfaces, include 48V Phantom power for use with condenser microphones. iTrack Dock also features Focusrite's unique "Gain Halos" – a ring of light around the input gain control – to easily set the input gain: green for healthy signal, red if it's too hot.
Dedicated maximum headroom guitar DI: iTrack Dock provides a guitar input with plenty of clean, clear headroom to capture both quiet and loud guitars with stunning clarity.
USB MIDI port connects and powers a MIDI controller: USB MIDI port for class compliant MIDI controller connectivity (MIDI + power) – perfect for connecting a Novation Launchkey or Launchkey Mini.
Works with any Core Audio app: From GarageBand to Cubasis, Auria and beyond, iTrack Dock expands the functionality of any Core Audio application – and with its built-in Core Audio driver there's no setup required.
High quality outputs with over 105dB dynamic range: Balanced main monitor outputs plus a stereo headphone output, with more than enough power for headphones and powered monitor speakers.
Latency-free direct monitoring: iTrack Dock's direct monitoring sends your input signal straight to the headphone and main monitor outputs for perfect timing.
Stereo line inputs: Connect synths, drum machines, CD players and more with balanced stereo line in.
Versatile recording app included: Includes the Tape by Focusrite app for iPad, which offers instant recording, mastering and sharing without the complexities of traditional music-making software.
iTrack Dock will be introduced at the Winter NAMM 2014 in Anaheim, California, at Focusrite Novation Inc's booth (#6464). It is priced $249.99 (MSRP) / $199.99 (street).
More information: Focusrite