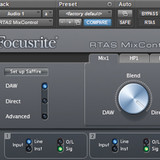 Focusrite has announced the RTAS MixControl, a plug-in for flexible monitoring of Saffire MixControl in Pro Tools 9.
In 2000, Digidesign chose Focusrite as their hardware partner to deliver what was to become the most successful Pro Tools interface ever – the original Mbox.

Now, with the introduction of Pro Tools 9, Focusrite interfaces are once again the best choice for Pro Tools users.

Our unique RTAS MixControl plug-in will bring the flexible monitoring of Saffire MixControl, right inside the Pro Tools 9 environment.

At Focusrite, we believe that sound quality is everything. That's why every interface we make combines our award- winning mic pres with best-in-class digital conversion and clocking to ensure you capture your sound – entirely.

Combining an uncompromised sound philosophy with our unique Pro Tools integration, Focusrite's Saffire Range is the best choice of interface for Pro Tools 9.
More information: Focusrite