Softube has announced that it has teamed up with Focusrite to offer Focusrite Scarlett, Saffire and Clarett owners the Time and Tone Bundle, an exclusive plug-in package.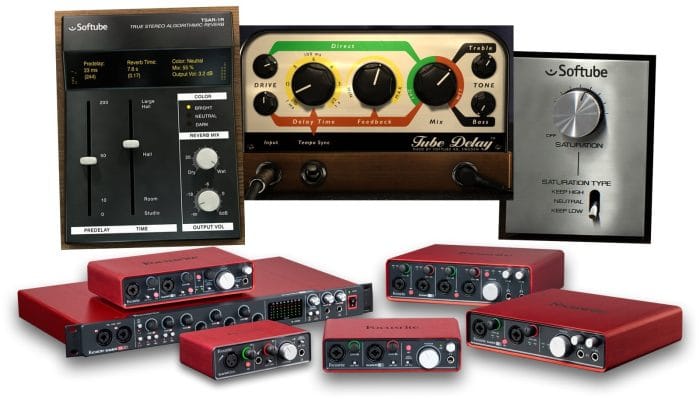 Softube's Time and Tone Bundle is a unique plug-in bundle (value: $198) which includes three of Softube's world class plug-ins: A reverb, a delay and a distortion. Use these together with the free plug-ins offered by Focusrite, to bring your mixes to the next level.
Time and Tone Bundle features
TSAR-1R Reverb: Add space, depth and width to your sound—TSAR-1R Reverb is a reverb plug-in with world class sound and extreme ease of use. With a single slider, you can take TSAR-1R Reverb from realistic and three-dimensional rooms to dramatic and dreamlike halls.
Tube Delay: A tasty echo effect that can go from clean to rude by overdriving its three modeled tube stages. Create anything from realistic room echoes to rockabilly style slap backs—or take it all the way into dub reggae echo madness.
Saturation Knob: Add grit and warmth to any sound source with this modeled output distortion unit. Use it to fatten up bass lines, add some harmonics and shimmer to vocals, or flat out destroy your drum loop. Simply turn up the knob to add saturation and use the three-position switch to alter the distortion character.
For all purchases that were made on or after September 1st, 2015, all registered Focusrite Scarlett, Saffire, and Clarett* customers can get Softube's Time and Tone Bundle for free from their download area.
More information: Softube / Focusrite
*Eligible Focusrite audio interfaces: Scarlett Studio, Scarlett Solo Studio, Scarlett Solo, Scarlett 2i2, Scarlett 2i4, Scarlett 6i6, Scarlett 18i8, Scarlett 18i20, Saffire Pro 14, Saffire Pro 24, Saffire Pro 26, Saffire Pro 40, Liquid Saffire 56, Clarett 2Pre, Clarett 4Pre, Clarett 8Pre, and Clarett 8PreX.