Focusrite has announced the release of the Red 2 & Red 3 Plug-in Suite, a bundle compresing equalizer and compressor effect plug-ins, that come bundled with all Focusrite Scarlett, Saffire, Forte, and Clarett audio interfaces.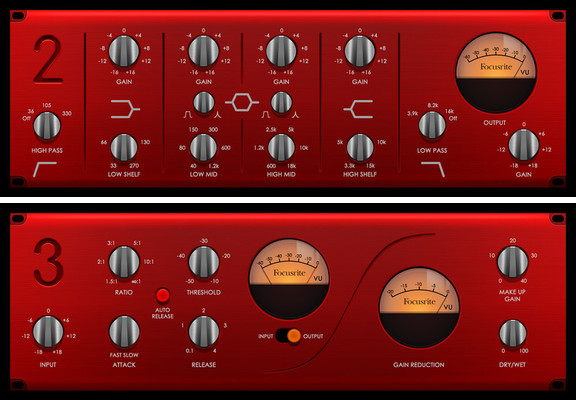 The new plug-ins are accurate models of Focusrite's classic Red 2 equalizer and Red 3 compressor hardware. Coveted by producers and engineers for their exceptional clarity and versatility, the original units are prized fixtures in professional recording studios the world over. Now, the Red 2 & Red 3 Plug-in Suite lets you exploit the famous natural sound of the originals, conveniently from within your audio software.

The plug-ins faithfully reproduce the sonic qualities of the hardware, allowing you to get detailed tonal control of your mix. The Red 2 EQ is a sweet sounding 6-band design, with high/low pass filters, high/low frequency shelves, and fully parametric low-mid, and high-mid frequency bands. The Red 3 compressor is a VCA compressor design, excellent for natural sounding dynamic control of drums, bass, vocals, and acoustic instruments.
The bundle is available for purchase for $299 USD. Registered Scarlett, Saffire, and Forte customers can download the new plug-ins for free, adding to their Focusrite software bundles.
More information: Focusrite / Red 2 & Red 3 Plug-in Suite