Focusrite has announced the Red 8Pre, a 64-in/64-out Thunderbolt 2 and Pro Tools | HD compatible audio interface with Dante network audio connectivity.
The Red series of interfaces represents the pinnacle of Focusrite's interface range, and Focusrite is proud to announce the launch of Red 8Pre. With 64 inputs and 64 outputs (including a total of 16 analogue inputs and 18 analogue outputs) and eight of Focusrite's specially-developed digitally-controlled mic preamps, the Red 8Pre answers the need for more microphone inputs and a higher I/O count.

In addition, in common with the Red 4Pre, the Red 8Pre includes two front-panel high-headroom instrument inputs, dual Thunderbolt™ 2, dual Pro Tools | HD DigiLink™ and Dante™ network audio connectivity. Featuring Focusrite's most advanced low-noise conversion and beautiful yet robust design, Focusrite's Red interfaces offer the perfect balance of form and function, delivering the sound quality and versatility engineers and producers around the world expect from Focusrite.
Red 8Pre features
The pinnacle of our interface design – the Red range of interfaces is our best yet, and the Red 8Pre offers the most extensive features. With eight of our cleanest mic preamps, our best-sounding converters and a build quality that harks back to the original Red series.
Our best conversion performance – A 24-bit 'parallel path summing' dual converter configuration operating at up to 192kHz sampling – perfect for high-resolution audio – offers the optimal combination of sound quality, noise floor, dynamic range and conversion latency, with 118dB (A-D) /121dB (D-A) dynamic range. ≤0.0009% THD+Noise and a frequency response flat from 20Hz to 35kHz ±0.25 dB or better.
Dual Thunderbolt™ 2 ports for daisy-chaining – Connect to a DAW with our lowest round-trip latency whilst simultaneously connecting Thunderbolt devices such as hard drives and displays.
Direct Pro Tools connection – Dual DigiLink™ connectivity with Pro Tools | HD systems and existing Avid® interfaces.
Dante Network Audio enabled – Dual Ethernet ports for Dante™ audio-over-IP networking. Add up to 32 Dante I/O channels via Ethernet anywhere on the network, with low latency and lower cost.
Eight 'Red Evolution' Air-enabled mic pres – Up to 63dB of ultra-clean gain, -129dB EIN and individual phantom power, setting recall, stereo linking, HPF and polarity invert, plus Air mode, for an analogue emulation of our heritage ISA preamp characteristics. Configure them via software or from the elegant front panel with its clean controls and clear colour LCD displays.
Freely assignable input and output routing – Allocate any physical input or output to any driver/Pro Tools|HD channel; allowing fully customisable setups, perfect for creating hardware inserts.
Round-trip latency as low as 1.67ms – Track with preferred plug-ins and record virtual instruments in real time. Simplify studio workflow: run a single mix for both overdubbing and mixing, with plug-ins in place, all the time. No need for cue mix utilities or outboard DSP.
Expansion done right – add up to 32 input and 32 output channels of Dante interfaces to the Red 8Pre – wherever there's an Ethernet connection, over a greater distance, with low latency and at lower cost, without wasting money on unused hardware.
Front-panel instrument inputs – Provide easy access to high-headroom instrument connections even when rack-mounted.
Digitally-Controlled Analogue Attenuator on monitor outputs – Instead of simply turning down the level on the D-A, the monitor outputs are attenuated in the analogue domain, allowing the D-A's full dynamic range to remain available at all monitoring levels.
64 inputs/64 outputs – including 16 analogue inputs and 18 analogue outputs.
Software Included – Every Red 8Pre includes Focusrite Control software, allowing mic preamp control and the quick and intuitive set-up of mixes and monitors; the Red plug-in suite; and Softube's Time and Tone bundle.
The Focusrite Red 8Pre will be available from dealers for $3499.99 USD.
Focusrite has also announced the launch of a the Clarett OctoPre, a new eight-channel mic pre/A-D/D-A designed to allow the rapid addition of eight mic/line inputs and line outputs with the company's successful Clarett range of audio interfaces, or other interfaces that include ADAT optical I/O.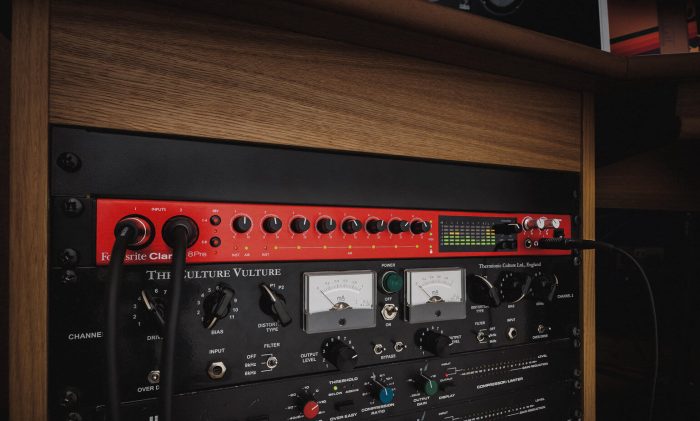 The Clarett OctoPre includes eight of the Clarett range's 'Air'-enabled mic pres: the 'Air' effect emulates the transformer-based sound of Focusrite's ISA range of heritage mic pres. The preamps include extensive headroom, making them ideal for drums or other high-level signals. The rear panel inputs switch automatically between mic and line in and there are also two instrument DI inputs on the front panel. The 'Air' effect can be switched in or out on a channel basis and phantom power is also provided, switchable in two groups of four channels.

Each channel features a front-panel switchable relay-bypassed insert point allowing EQ, compression or other analogue processing to be left connected and brought into play with the push of a button. In addition to being fed to the A-D converter, the input channels are also available at the analogue outputs, from where they can, for example, be routed to a live mixing console while at the same time capturing the inputs digitally. The analogue outputs, which appear on a rear-panel DB25 wired to the AES59 standard, can alternatively be switched to pick up the ADAT inputs via the D-A converters.
Clarett OctoPre features
The ideal Clarett I/O expansion kit: With eight Clarett mic pres, eight line outputs and ADAT interfacing, the Clarett OctoPre is the ideal way of adding inputs and outputs to your Clarett Thunderbolt audio interface – or any other interface with ADAT I/O.
The sound of transformer mic preamps: The eight specially-designed Clarett mic preamps include a switchable analogue 'Air' effect that imparts the sonic signature of the classic Focusrite ISA mic pre.
Focusrite precision conversion: 24-bit A-D and D-A conversion at standard sample rates all the way up to 192 kHz, with up to 118dB dynamic range A-D and 119dB dynamic range D-A (A-Weighted) to capture every nuance in recording and mixing. Up to eight channels of A-D and eight channels of D-A (four channels at 176.4/192kHz).
Eight high-quality analogue outputs: Feed them from the mic pres directly to a mixer in a live environment, simultaneously capturing your audio digitally via twin ADAT outputs. Or drive them from the ADAT inputs, giving you up to eight additional analogue outputs from your DAW.
Dedicated switched insert points on every channel: Track through your favourite analogue outboard equipment such as compressors, gates and EQ with maximum flexibility via dedicated switched insert points with clip indicators on every channel. Leave inserts permanently connected to your outboard gear or patchbay and switch them in and out as required.
Mic preamps optimised for tracking drums: Clarett Octopre is designed not to clip, with preamps optimised to handle extreme levels from sound sources like kick drum and snare.
Two quality instrument inputs: Clarett Octopre's first two channels feature extreme-headroom DI's, ready for you to plug in your guitars and bass, instantly accessible on the front panel and able to take the highest level pickup without distortion.
Six-segment LED input metering on every channel: Clarett Octopre's fast-acting input meters provide clear reference of input levels, helping you to avoid analogue or digital clipping. Additional pre-insert clip indicators ensure accurate gain staging when using outboard equipment.
48V Phantom power on every channel: Switched in two groups (1-4 and 5-8), every channel is capable of supplying phantom power for use with condenser microphones.
Versatile clocking solutions: Clarett OctoPre provides wordclock I/O employing industry-standard JetPLL™ jitter elimination technology for rock solid, super stable clocking performance.
The Clarett OctoPre will be shipping in November and is available from dealers for $699.99 USD.
More information: Focusrite