Plugin Boutique has launched a sale on the Midnight Plug-in Suite, offering plugin models of the ISA110 equalizer and ISA130 compressor at over 50% off for a limited time only.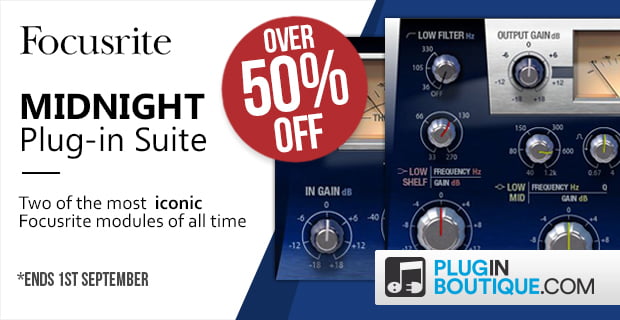 Save over 50% off Focusrite's Midnight plug-in suite.

The collection takes two of the most iconic Focusrite modules of all time – the ISA110 equaliser and ISA130 compressor; models their sound exactly with powerful DSP technology; and gives them elegant, functional on-screen front panels that make them simplicity itself to use.
Midnight Plug-in Suite features
Powerful DSP Modelling — Exactly recreates the sound of two classic Focusrite modules renowned for their sound, versatility and hit-making heritage. Brings that exact sound into your digital studio and puts it at your fingertips.
Legendary Audio Quality — Focusrite's reputation was built on sound principles. From the original analogue consoles of the 1980s to today's digital studio, Focusrite quality is second to none. In fact, it's so good you can take it for granted.
Exquisite High-Definition Graphic User Interface — We did more than exactly model two incredible analogue modules, incredibly accurately. We gave them gorgeous graphic front panels, too. We didn't do that just to look pretty: we did it to make them simple to use and easy to learn – just like their analogue predecessors. Controls are intuitive; meters tell you what you need to know, clearly and instantly. You get what you want, and fast.
The Sound at the Heart of the Digital Studio — If there are two parts of the studio signal chain that make the most difference when it comes to defining your sound, they are compression and EQ. Midnight combines a powerful, versatile, easy to use compressor with a clear, warm and flexible equaliser. They're just the tools you need to give you the edge and take you to the next level.
A Step Up You Can Afford — Until now, tools like these were often beyond reach, especially if you're just starting out. Midnight changes all that. Now you no longer have to rely on the basic channel modules that came with your system, or cheap alternatives that ruin your sound. Nor do you have to blow your entire budget on the plug-ins of the past. Midnight gives you quality tools you can afford – quality tools you can't do without.
The Midnight Plug-in Suite (VST/AU/RTAS) is available from Plugin Boutique for £35 GBP until September 1st, 2017.
More information: Plugin Boutique / Focusrite Midnight Plug-in Suite