Experience live product presentations of the recently announced RedNet R1 and Red Range interfaces, Q&A's with industry-leading engineers and producers, and practical advice on upgrading to a modern home studio workflow in a post-COVID environment.
Learn how to improve your production quality and efficiency with the world's most versatile, flexible, pro-quality recording and monitoring solutions, ensuring that Focusrite's Red, RedNet and ISA Ranges will feel right At Home, At Home.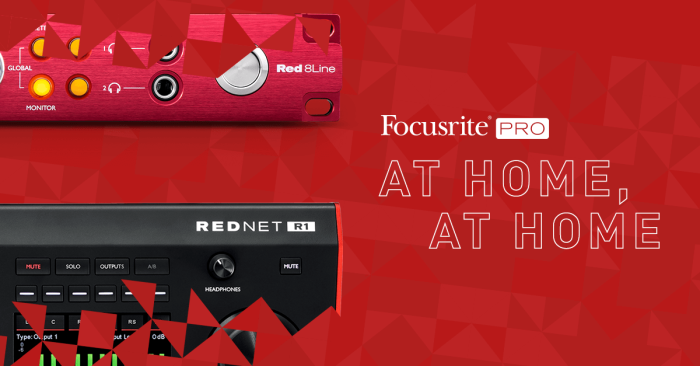 Tune in live to see a full feature run through of the Red 8Line, a new addition to the powerful Red Range of audio interfaces. Featuring native connectivity with Thunderbolt 3, Pro Tools | HD, and Dante networks, the Red 8Line is Focusrite Pro's best-sounding, most versatile and hardest working audio interface delivering full compatibility with any audio production environment.
Product specialists will also show you how to supercharge your recording and mixing workflow with the RedNet R1, an immensely powerful desktop remote controller for Red interfaces. The RedNet R1 features customizable hardware buttons that not only allow you to quickly switch between your monitor configurations, but also creates presets for your I/O configurations in the RedNet Control matrix. Switch between drum- and guitar-tracking setups or jump between analog processing chains with the click of a button.
Focusrite Pro will also be showcasing the RedNet A16R MkII and RedNet D16R MkII — updates to the popular multi-channel RedNet analog and digital interfaces — as well as ISA 828 MkII, ADN8 and ADN2, which are three new products recently introduced into Focusrite's legendary ISA range, which bring the classic Focusrite sound to Dante Audio-over-IP networks.
In celebration of Focusrite Pro's announcement of four brand new products designed specifically to meet the needs of modern audio professionals, they are also giving you a chance to win a RedNet R1 and Red 8Line, in a limited time contest.
The event takes place on December 3rd, 1pm-4pm PST. Subscribe to the Focusrite Pro YouTube channel to be alerted when our event is live.
More information: Focusrite