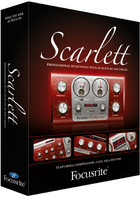 Focusrite has released Scarlett, a professional software suite that provides the definitive collection of compression, gating, EQ, and reverb plug-ins for tracking and mixing.
From one of the most prestigious names in pro audio, made famous by the original Red range and the classic ISA console modules, Scarlett provides the perfect upgrade for your Digital Audio Workstation. Not only does it sound great, the Scarlett user interface features a stunning Red anodized aluminium look with intricately modeled, life-like VU meters, setting the standard for drop-dead gorgeous plug-ins.

Each powerful plug-in has a host of fast and easy-to-use presets, providing a great starting point for processing everything from vocals and guitars to synth bass and percussion. In addition, every plug-in parameter can be finely tuned to bring out the best in your sound, exactly the way you want it. So, whether you want to get started quickly, or spend some time refining your sound, Scarlett is destined to become your new 'go-to' plug-in.
Scarlett features
Unmatched Sonic Quality

– Brought to you by the team behind the Forté Suite and the famous Focusrite hardware line. Focusrite has provided that final polish and shine to thousands of hit records over the last two decades.

A Faithful Recreation Of Classic Compressors & Gates

– Modeled on original ear-tuned hardware optical compressors, exclusive to Focusrite, Scarlett's dynamics modules deliver that authentic 1960s Opto sound.

Multi-modes Enable Creative Gating Techniques

– The Gate can operate in stereo mode and, in different dual mono configurations, one signal can be used to trigger the gate of another; ideal for tightening up a bass line, for example.

Classic Focusrite EQ Curves & Controls

– Scarlett uses the same Focusrite six-band EQ approach as the Red 2 and ISA EQs, with filters, parametric mids and shelving, all modeled to offer an authentic response across the entire audible frequency spectrum.

Professional Reverb With Concise Controls

– Based on classic algorithmic studio reverb designs, this reverb delivers a remarkable level of sonic quality for your recording projects. Easy to use controls get you to the ideal reverb sound in seconds.

Stunning GUI With Life-like Port-hole VU Meters

– A Red anodized aluminium feel, extremely detailed metering and other visual elements from Focusrite's illustrious recording history make Scarlett look as good as it sounds.
Scarlett for PC and Mac (VST/AU/RTAS) is available to purchase at selected dealers in the U.S. at the MAP price of $99 USD.