ForceSampling has announced the release of Post-Guitars, a collection of warm and ambient guitar instruments for Native Instruments Kontakt.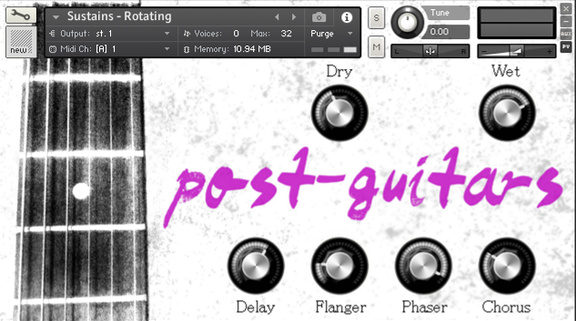 Post-Guitars is a collection of ambient guitar samples inspired by classic post-rock and ambient bands that are designed to be lush and warm. The library provides fully playable guitars processed with a variety of reverb tails and soundscapes. A user can control the balance between the dry guitar and the ambient tails with the two volume knobs on the interface. There are also 4 different effects sends for the dry signal to add further flexibility.

The patches are split into 4 categories. The "Harmonics" and "Sustains" categories includes long tails made with delays, reverb and granular effects, while the "Layered Sustains" and "Pads" layers the sound with synthesizers and/or other instruments like piano and bells.
Post-Guitars features
39 nkis, 2.24 GB of samples in .ncw format.
7 Harmonics.
8 Layered Sustains.
7 Pads.
17 Sustains.
The library is available for purchase for $40 USD.
More information: ForceSampling / Post-Guitars