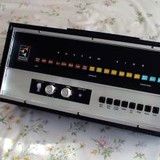 Forgotten Keys has released a new sample pack: Maestro Rhythm King MRK-1 Drum Machine.
I don't know a lot about the history of this machine except that a chap called Sly Stone called it the "Funk Box" and used it on his album There's a riot goin' on.

What I do know for sure is that the sounds and patterns are identical to the "Rhythm Unit" (as we used to call them) in some Lowrey organs from the 1960s/1970s. I know because I had one in the 1970s.

You may think that this would be an easy machine to sample as it has eight manual sound trigger buttons on the front. You only have to listen to the built-in rhythm patterns though to realise that there is more going on than these buttons provide.
Maestro Rhythm King MRK-1 sample pack features
All internal sounds with five round-robin variations, in 24 bit wav format.
Front panel sounds: Bass Drum, Snare Drum, Hi-hat Cymbal, Cymbal, Tom Tom, Bongo, Blocks, Clave.
Oher sounds not avaiable in isolation either from the front panel or the rhythm patterns: Rimshot, Hi-Drum, Lo-Drum, Lo-Drum Muted, Five envelope variations of Cymbal 1, Five envelope variations of Cymbal 2.
Combined sounds as used in the rhythm patterns: Blocks + Clave, Blocks + Clave + Lo-Drum, Blocks + Hi-Drum + Rimshot, Bongo + Rimshot.
18 rhythm patterns divided into three categories (Latin, American, Traditional): BossaNova, Samba, Bolero, Rumba, Cha-Cha, Mambo, Tango, Pasa Doble, Slow Fox, Slow Rock, Swing, Dixie, Shuffle, Go-Go, Disco, March Polka, Western, Waltz.
Samples have not been individually normalised as the original balance between each sound would have been lost.
Samples are mapped in (a sort of) General MIDI format.
The Maestro Rhythm King MRK-1 sample pack is available to purchase for £3.50 GBP. A free compact version is available to download (no round-robin variations; no extra internal sounds; 16 bit only).
More information: Forgotten Keys