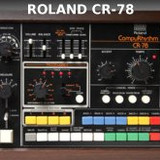 Forgotten Keys has released Roland CompuRhythm CR-78 Drum Machine, a sample pack featuring the sounds of the CR-78 drum machine.
What you get is the work of someone who cares about getting as close to the original instrument as possible, and keeping the sound quality as high as possible. Don't let the low price put you off!

The samples can be used in any sampler that accepts 24 bit 44.1 KHz sample format. However, this pack comes alive when used with the supplied Native Instruments' Kontakt File. Kontakt is a software sampler for use on a PC. By taking advantage of the scripting capabilities that kontakt offers, it has been possible to create a virtual drum machine, including all the rhythm patterns and variations of the CR-78.

You are able to add "Imperfections" to give a touch of realism to the sound including random velocity, timing and accent variations. There are eight samples of every sound which are picked at random when the Round-Robin button is selected. Even the "clunk" of the rhythm selector buttons and "click" of the knobs has been sampled! Sound groups can be panned and their volume balanced. Rhythms from the same group can be added together in any combination (not just two as on the original), and can also be played via incoming MIDI notes allowing you to play the rhythms from a sequencer or DAW.
The sample pack is available to purchase as a download for £5.50 GBP.
More information: Forgotten Keys