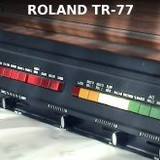 Forgotten Keys has released the Roland TR-77 / Rhythm77 Sample Pack, a collection of sounds from the Roland TR-77 / Rhythm77 Drum Machine.
There's quite a lot of information on the internet already about this machine so I won't go into too much detail about the history of it. It's worth noting though that this was Rolands' first Drum Machine apparently. At the time we called them "Rhythm Units" and they were usually found sitting on top of an electronic home organ, hence the wooden cabinet and music rest.
Roland TR-77 / Rhythm77 sample pack features
Samples (24bit 44.1KHz WAV format) of all internal sounds from the first Roland Drum Machine from the early 1970s.
8 random round-robin variations and a few extra sounds created by the ancient art of poking around inside.
Extensive use of Kontakt scripting to create more of an instrument rather than just a means of triggering samples.
Includes MIDI files which contain 1 or 2 bars/measures of all the built-in rhythm patterns using the default keyboard mapping on MIDI channel 10.
The Forgotten Keys Roland TR-77 / Rhythm77 Sample Pack is available to purchase for £3.50 GBP.
More information: Forgotten Keys