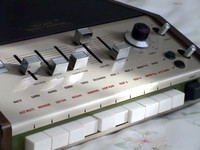 Forgotten Keys has released a free sample pack featuring sounds from the Univox SR-95 / Keio Mini Pops MP-7 Drum Machine.
The Univox SR-95 (aka Keio MiniPops MP-7) Drum Machine is an analog machine from the 1970s. It was probably most famously used by Jean-Michel Jarre on his Oxygene album in 1976. The Univox branded version was, I believe, for the USA market. This is the version I have and which I paid a bit over-the-top for on eBay in 2009.
Univox SR-95 / Keio Mini Pops MP-7 Drum Machine sample pack
All 15 sounds with eight round-robin variations plus the "warm-up" sound you get when you switch the machine on.
Sounds: Bass Drum, Snare Drum 1, Snare Drum 2, Rimshot, Hi-Hat, Cymbal 1, Cymbal 2, Cowbell, Conga, Large Bongo, Small Bongo, Claves, Quijada, Guiro, Tambourine.
Format: 24 bit wav.
Samples have not been individually normalised as the original balance between each sound would have been lost.
The Univox SR-95 sample pack is available to download at no cost. Donations are appreciated.
More information: Forgotten Keys