Forward Audio has launched fa FractionalDelay, a free phase alignment and time manipulation effect plug-in for Windows.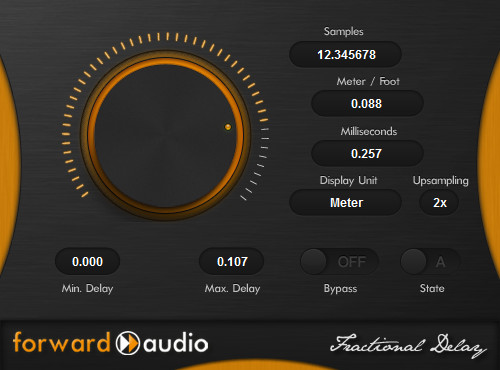 It uses an oversampling and interpolation algorithm to apply signal delays with a precision of 0.000001 Samples. With this possibillity it does phase aligments between microphone signals even with varying microphone or sound source distances during the recording. It gives you the ability to improve your postproduction of live/studio recordings when moving musicians or microphones can complicate phase relations. In that case, use your DAW automation to smoothly fade between single delay amounts.

Nevertheless, with a correct DAW routing and multiple instances of fa FractionalDelay, you can also apply stereo effects like moving haas delays, create colorful filter textures like a moving comb filter (similar to a really slow phaser effect) or do manual artifical double tracking with varying delays.
fa FractionDelay features
Signal delaying with a precision of 0.000001 Samples (Maximum of 100,000 Samples).
Phase alignment of varying microphone distances via DAW automation.
Oversampling with 2x-8x.
A/B comparisons.
Enter delay values in samples, ms, meter & foot.
Editable Min-Max-Values of the Delayknob.
Unique flexible user interface.
Available as VST 2 for Windows (VST/AU for Mac currently in development).
The plug-in is available as freeware for Windows (VST), as part of the KVR Developer Challenge 2014.
More information: Forward Audio / FractionalDelay