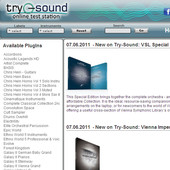 Try-Sound has announced the availability of four new virtual instruments at its online testing platform.
Try-Sound is presenting the possibility to test virtual instruments over the internet from the comfort of your living room or studio, no matter if using Windows or Apple Mac OS. The use of Try-Sound is FREE!

There are more than 50 virtual instruments now in the Try-Sound portfolio. The following two brand-new "Best Service ENGINE" libraries, and, for the first time, two titles from "Vienna Symphonic Library" have been just added.
New at Try-Sound
VSL Special Edition Bundle

– This Special Edition brings together the complete orchestra – and more – in an affordable Collection. It is the ideal, resource-saving companion for
orchestral arrangements on the laptop, or for newcomers to the world of Vienna Instruments, offering a useful cross-section of Vienna Symphonic Library´s over one million samples.

Vienna Imperial

– The new VIENNA IMPERIAL virtual grand piano is a class of its own. The venerable Bösendorfer Imperial 290-755 that the Vienna team hosted at the
Silent Stage for two months was equipped with the famed piano manufacturer's CEUS technology, which allowed for the most precise and by far most extensive piano sample recordings ever conducted in the history of music technology. 1,200 recorded samples per key represent a magnitude of sampling detail that has been unthinkable up to now.

World Percussion

– The next generation: World Percussion virtual instrument! After four years of development Evolution Series, an Australian sample library developer, has created the next generation World Percussion virtual instrument offering unprecedented sound quality and endless creativity. Evolution Series World Percussion is designed to satisfy the most discerning film, TV, game
composers and producers. It is a powerful and easy-to-use sample library using state-of-the-art equipment, a worldclass scoring stage, and a treasure trove of beautiful instruments.

Forest Kingdom

– Developed by Eduardo Tarilonte – the renowned producer of "Epic World" and many other highly regarded libraries – Forest Kingdom is a unique sample library inspired by Nature. It is the sound of forests and jungles, the sound of Mother Nature herself in one sample library!
Try-Sound is a totally free service by Best Service.de and SoundsOnDemand.com.
More information: Try-Sound