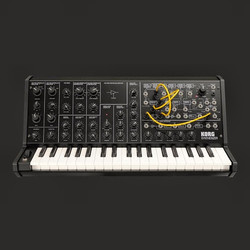 Francis Prève has released the MS-20 Mini Simpler Sixpack, a collection of 6 Simpler instrument for Ableton Live.
Korg's MS-20 Mini has quickly become one of the biggest synths of 2013. Maybe even THE biggest synth of 2013.

With its full-figured filters and a semi-modular approach to sound design, the MS-20 has a sound that's so beefy and unique that it's earned a very special place in my studio.

Having tinkered with it for the better part of the summer, I figured it was time for another six-pack of Simpler patches. Since the MS-20's filters are so distinctive, I focused on their sound as the basis for these presets.
The pack is a free download. Requires Ableton Live 8.1.5 or higher.
More information: Francis Prève / MS-20 Mini Simpler Sixpack