Franke Music has released version 2 of its Stroke Machine drum and groove synthesizer and sequencer app for iPad.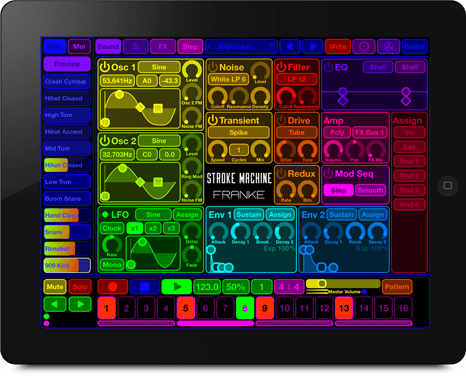 Program your own rhythm and groove patterns and switch between them in a live performance. Mute or solo individual instruments, change parameters on the fly and record your performance as high-quality audio file for sharing or later editing on your computer.

The high-contrast user interface is perfectly suited for dim light situations on stage and assists in sound creation in the studio.

Stroke Machine's powerful synthesizer engine features high-quality Oscillator, Filter, Overdrive and Effect models, extremly fast Envelopes and LFO, sample-exact Pattern Sequencer and a sophisticated Sample, Sound and Pattern library.
Changes in Stroke Machine v2.0
Maximum settings of Bar, Beat and Step highly increased (up to 16 bars with 16 beats with 16 steps in each pattern).
AudioBus 2 support including saving and loading of the current Stroke Machine kit.
Added Mix view with important mix parameters for the percussion and melody sounds like Mute, Solo, Volume, Pan, FX Bus and FX Send. To automate them, activate the respective Modulation Sequence.
Added Pad view with big, velocity-sensitive pads for the 12 percussion sounds.
Added MIDI channel selection for each melody sound and all percussion sounds to 1 to 16, Omni (all channels) and Off (no channel).
Layer sounds by setting several parts to the same MIDI channel.
Added Route button.
Added Internal/External Sequencer button.or the sequencer of the host app.
Added MIDI Learn.
Added MIDI Program Change reception.
Changed Master Volume to only control the volume of Stroke Machine rather than the overall iPad volume.
Added Clear Pattern button in Kit view.
Added LFO phase beat sync.
Fixed crash when tapping Next or Previous Kit while in topmost library folder.
Fixed crash with Share Kit/Sound on iOS 6.
Fixed crash when editing notes while recording.
Fixed freeze when an interruption occured such as an incoming Skype call.
Fixed an issue with soloed parts when loading a kit.
Fixed possible double playback of notes on first step when syncing to MIDI Clock.
Fixed LFO rate exceeding valid bounds.
Stroke Machine for iPad is available for purchase for $9.99 USD.
More information: Franke Music