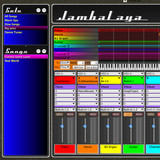 Freak Show Enterprises has released version 1.3 of JambaLaya, an audio and MIDI performance application and Audio Units host.
It took a little longer than expected but the Snow Leopard compatibility release is up. This is a free update for all users. Key features include better support for Cocoa based Audio Units with resizable windows (Apple Delay Unit for instance), a fix for saving under Snow Leopard where documents that contained songs without lyrics or notes would fail to save cryptically, and a fix for a crashing on exit problem introduced with new application termination behavior.

Feature-wise, the big feature is hierarchical menus for Audio Units. I've gotten to the point where I have so many virtual instruments that it was getting hard to find them. The instrument and effects menus are now arranged alphabetically by vendor, then plugin. This makes it much easier to find a specific item in a large collection of plugins.

This release has been lightly tested. I wouldn't grab it if you've got a hot gig tonight without first backing up your files and your existing copy of JambaLaya.
JambaLaya is available to purchase for $50 USD.
Visit JambaLaya for more information.