Freaky Loops has launched the Cinematic & Ambient Bundle, a 12GB collection of loops and samples perfectly suited to anyone looking to add chilled and cinematic touch in their projects.
The bundle comprises 7 full packs: Gloomy Ambient, Tranquillity, Dramatic Pianos Vol 2, Ominous Pianos, Futuristic Electronica, Space Journey, and Sinister Drones.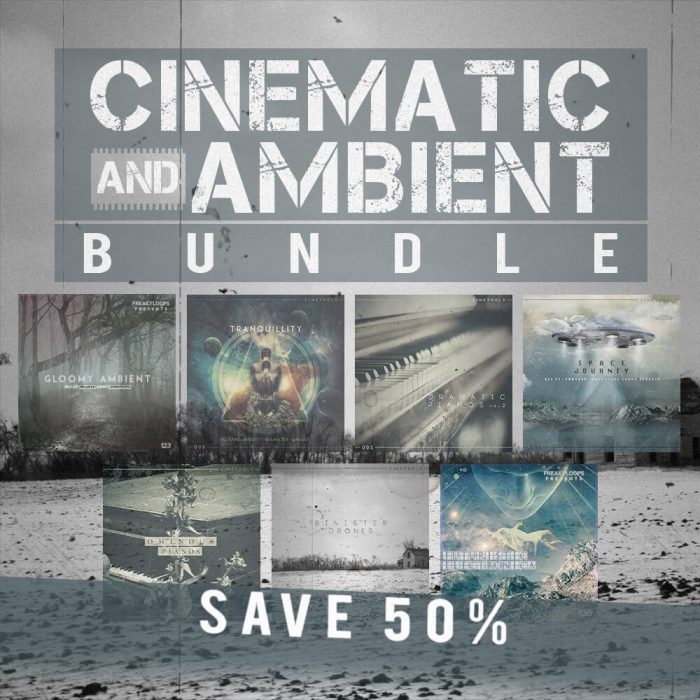 Inside you will find all the ingredients needed to create your next big production.

From hazy and dusty atmospheric textures to glitched-out ambiences, silky arpeggios to shimmering and pulsing bass, swung and corrupted slo-mo beats to blessed-out melodies, smooth, melancholic, chilled and hypnotic piano sounds to found sound percussions, soulful and gritty chord-lines to deep and filtered chord movements, unsettling drones to dynamic energy fields to electric arcs, huge temple tonal drums to bowing cymbals, floating chords to mesmerising sound effects, melodic dark and haunting pads to soft analogue kicks, abstract percussive noises to trembling soundscapes, bamboo water fountains to bright and buzzy synths, celestial sequences to crispy 'n' crunchy snares, emotive mallets to fighting bots to transforming layers, extraterrestrial creatures & giant insects to space bells, granular FXs to user interface sounds like button and switches, magical river sounds to massive temple gongs, organic instrument loops including deep atmospheric guitars to nature to rain drops, machines and power cores to energy beams, robotic impacts and explosions to machine hydraulics and robot weapons, unearthly ambiences to space-age vehicles, euphoric plucks to ethnic pipes, dreamy harps to lo-fi smooth keys and so much more.. all you need do is pick the right sound!

Perfect for use in Cinematic Composition, Film Scores, Trailers, Commercials, Documentaries, Advertising, World and Background music. Also usable for any productions ranging from Ambient to Downtempo, Atmospheric DnB to Electronica, Chillwave to Post-Dubstep, Dark Dub to New Age, Ethereal Meditation Music to IDM and Experimental these versatile sounds will help bring any track to life.
The Cinematic & Ambient Bundle is available from Loopmasters for £104.95 GBP (regular £244.60 GBP).
More information: Freaky Loops / Cinematic & Ambient Bundle