Cluster Sound has announced the release of a new free synth and drum pack for Ableton Live. The KB-800 collection is based on the vintage JVC KB-800 polyphonic preset-based synthesizer with PCM drums and auto-accompaniment.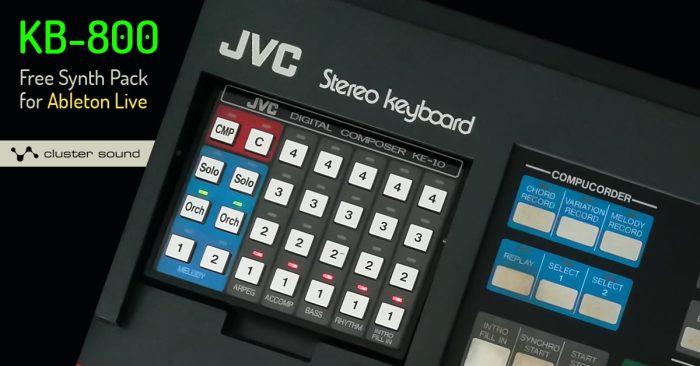 The original synth was designed for Synth Pop, Italo Disco and Electro.
Released in the early 80's, the JVC KB-800 is an interesting mix of analog and digital circuitry. Based on a custom JVC tone generator chip, the KB-800 implements 24 synth presets created by mixing different waveforms (Sine, Saw, Pulse and Noise) shaped with several analog filter and envelope settings.

The KB-800 features also 16 exquistely lo-fi PCM drums, a 512 stage BBD Chorus and a "Digital Effector" (including Delay – Echo – Flanger with "Long/Short" switch) that can be used to process external sources.
The KB-800 pack includes 24 synth devices (2 basses, 5 synth leads, 12 synth keys, 4 pads & strings) and 16 drum devices created with 1,380 samples. It also includes 4 Convolution Pro devices.
The pack is a free download for Ableton Live 9.5 or higher.
More information: Cluster Sound