Atom Hub has launched Mechaniano, a Kontakt library that combines pianos, synths and metal objects sound design.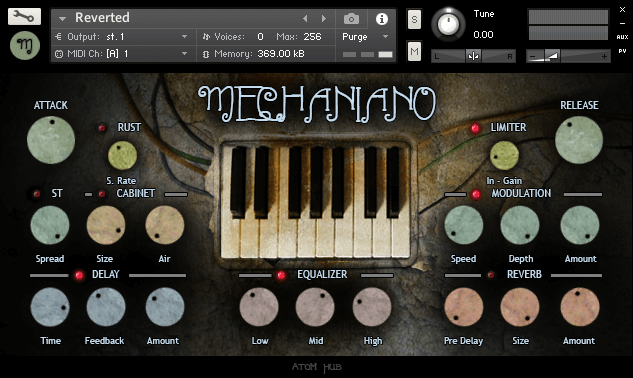 Acoustic tones of an old piano mangled together with synth samples and metal objects sampled outside in a town park. The result is a nice little instrument capable of melancholic, deteriorated sounds reminding untuned piano, marimba, metalophone, or music box.

Mechaniano comes handy anytime you need something imperfect, rusty sounding and of a piano nature. Regards to all the steam punk lovers!
Mechaniano features
24-bit/44.1kHz wav format.
66.8 MB installed.
10 basic patches with original samples.
30 patches derived from basic ones.
20 multi patches.
acoustic piano, synth, found metals.
Chorus, EQ, Lo-Fi, Stereo, Limiter, Delay, Reverb, Attack, Release controls.
Mechaniano is available as a free download for a limited time only. It requires Kontakt 5.8.1 or higher, full version.
More information: Atom Hub