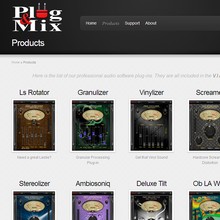 Plug & Mix has announced it is offering a free Plug & Mix series plug-in for its Facebook fans.
We are happy to offer YOU a Plug & Mix plug-in ! That's right, it's totally FREE and we're only asking for a "Like" on Facebook in exchange. That all !

Simply follow the instructions to get the $59 plug-in of your choice (40 plug-ins to choose from). You do need to have a Facebook account to do this, Ok?
More information: Plug & Mix