Eugene Yakshin has released a free granular VST instrument/effect that can be used to play as a synthesizer, glitch and scratch sounds, create textures, and more.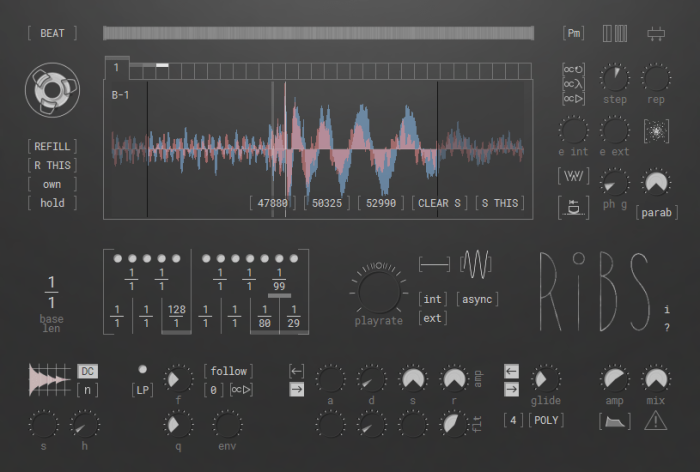 Since use cases share many common design elements, I've made a single tool, hence lots of controls. I realize that it's "a bit" overwhelming, so in the following days I'll release an overview video and add it here, but for now you can use the "?" button next to the logo on the right. Once it's pressed, hover the mouse over the controls and get a description for each of them.

One key concept to keep in mind is the use of incoming sound. Ribs fills its buffers with the sound that you route to its inputs. By default a buffer starts filling on the first incoming MIDI note. Then you can use the waveform to select specific parts of a sound (right mouse button), scroll and zoom (mouse wheel) and aim the playhead at a specific position (left click).
Most of the params are MIDI-automatable via the right click.

I'm planning to add better filter models and conventional sound loading in the future updates.
Ribs is available for download for 32- and 64-bit Windows from the KVR Audio forum.
More information: Ribs