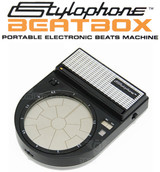 Patrick McNally wrote in to share a free sample pack featuring samples from a Stylophone Beatbox.
The drums sounds from the Stylophone are recorded from the inbuilt speaker and the headphone out at the highest and lowest possible pitches. They sound nasty, grimy, crushed and noisy and not just because of my recording skills. They have a lot of energy though and will be of use to someone. Just not someone wanting subtlety. The naming of what is kick, snare or tom is sometimes a bit iffy as these sounds can fall somewhere between them all.
You can download the free samples from Mediafire (no longer available).
Thanks, Patrick!