Swedish-based start up Freedrum has launched a sleek new update to the application for its virtual drum kit, allowing for a wider user experience and greater experimentation.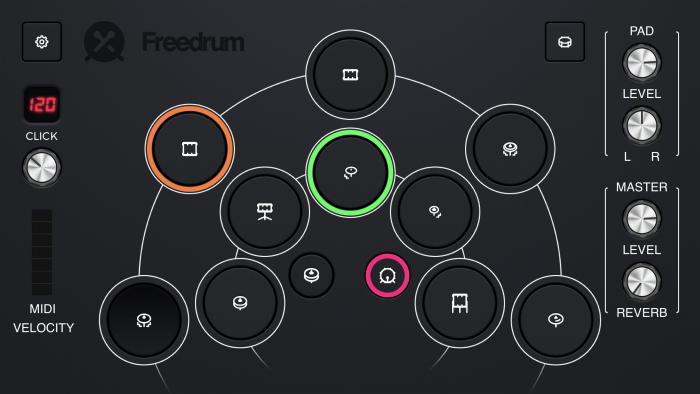 Freedrum works via sensors connecting wirelessly to smartphones, tablets and computers. The sensors are placed on traditional drumsticks, or on the feet of the drummer. The musician is able to play a virtual drumkit by striking the air with different angles and velocities.
The sensor uses a combination of gyroscope and accelerometer data sampled at a very high rate to accurately determine what MIDI note should be played and at what velocity. The data from the sensors is sent through the widely adopted MIDI over Bluetooth Low Energy technology. The use of MIDI allows for the modern musician to connect Freedrum to any modern DAW (Digital Audio Workstation) and customise the sounds to their needs. Each sensor uses a small but powerful battery that lasts for fourteen hours of playing, and can be charged within one hour.
"Since we released Freedrum in 2017, our users have asked for the ability to customise their drum kit setup" says co-founder Phillip Robertson, "With our new Freedrum application, you will be able to configure up to 12 different hit zones in over 3 million different variations!"
The new application was unveiled at NAMM (National Association of Music Merchants) convention in the US in late January to a very curious crowd, "The response from new and existing Freedrum users blew us away!" says Seyran Dalipovski, Customer Service Manager at Freedrum.
Changes in Freedrum App 2.0
A brand new user interface.
Up to 12 areas to place instruments in your kit with over 3 million different configurations possibilities.
More samples (with even more on the way).
Reverb added to give you the feeling of playing in an arena.
Using the built-in metronome, you can always be sure that you are playing at the correct BPM.
Change the volume of each individual instrument or the master level for all.
Pan each instrument to the left or right.
Change between the Left/Right channel for the kit.
Even lower latency.
Configure the sensors to a stick or foot sensor.
Control the opening and closing of the hi-hat using a foot sensor.
Updated firmware V9 (version 9) with bug fixes and a new configuration protocol which runs over SySex.
The updated Freedrum App is available for download from the App Store and Google Play.
More information: Freedrum