Freelance Pool Party has launched How To Make Money Producing Music: Virtual Recording Studio, a course featuring over 60 lectures and over 6 hours of HD video on how to make a living recording & writing music for clients in the digital age.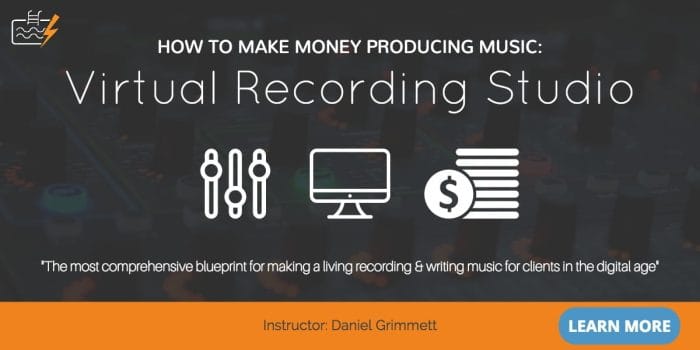 How To Make Money Producing Music: Virtual Recording Studio is the most comprehensive blueprint for making a living recording, writing, and producing music for clients in the modern age of music. It was inspired by the experience of it's instructor, producer & entrepreneur Daniel Grimmett. It includes over 6 hours of HD video, text, and audio lectures… All killer. No Filler.

"I feel that that going virtual and collaborating online is the future of the recording industry. The digital age has allowed me to transform my modest home recording studio into a 6-figure music production company that works with artists, songwriters, and companies all over world. I get to hire my best friends to work with me full time and do what I love to do which is create music for a purpose. We all hear about the 10% success stories, but there is an extremely healthy middle class in the music industry too. This course is the exact blueprint that I used for my music agency SongwritingTeam.com. It's practical and proven. My hope is that the VRS course will not just inspire my fellow music creators, but actually show them (in detail) how to make their music business thrive." – Daniel Grimmett

The VRS course is for any studio owner, home recordist, mixer, or music producer that wants to expand beyond their local reach and maximize their recording business. You don't need to be a "business expert" or even a veteran of your craft… The VRS course is just as helpful to beginners as it is to industry pros.
Upon completing the course with one-on-one guidance from Daniel you will:
Have the blueprint for creating a virtual music creation company that gets dozens of new audio projects every month.
Know about 3 imperative resources to start getting paid clients right now.
Know how to build a website that gets found on search engines without having any previous experience in web development.
Know the essential elements for converting your website visitors into paying clients (Songwriters, artists, brands, companies).
Know how to properly set up and run your business effectively and effortlessly using cutting edge tools.
Know how to envision and create a compelling and authentic brand.
Know the best way to create visuals and sound portfolios for your company.
Have the knowledge and skills to effectively promote your business, win bigger gigs, and become a better entrepreneur.
Fully understand how to collaborate with your clients virtually.
Be aware of potential pitfalls and how to avoid them so that you have an edge over your competitors.
Know how to transition from being a "freelancer" into a full-blown company if that is your big picture.
The course is available for purchase for $70 USD.
More information: The Songwriting Team