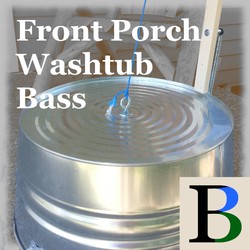 Front Porch Band has launched Front Porch Washtub Bass, a virtual washtub bass instrument for Native Instruments Kontakt.
Front Porch Washtub Bass is the ideal anchor for your Bluegrass and country tunes. An instrument with incredible personality, the washtub bass is an essential addition to your virtual instrument library.

Every washtub bass is different and we constructed ours to be most amenable to being sampled. Instead of a shovel handle, we built ours with a strong solid maple neck and used a resonant 15-gallon washtub for the bowl.

To help fit the bass into your mixes, we also recorded every sample using both a "high" and a "low" mic. The high mic was placed near the plucking area of the neck and the low mic was placed near the opening of the washtub, down below. The mics are mixable so you can achieve just the sound you want – higher for more pitch definition or lower for more percussive boominess.
Front Porch Washtub Bass features
Chromatically sampled washtub bass: 38 note range, from E0 up to F3.
Main pluck patch contains 3 velocity layers with 4x round-robin.
Rise and Fall articulations contain 3 velocity layers with 2x round-robin.
Release samples feature 8 velocity layers with 4x round robin – Smart Release Volumes: release samples get quieter the longer a note is sustained.
High and Low mics, mix completely adjustable between the two.
Finely crafted instrument – 15-gallon washtub and solid maple neck.
Tested 9 different string types and chose 5/32″ parachute cord as the exceptionally full and defined main string and then a low E metal double bass string as the low note "gutbuster".
All samples recorded at 44.1kHz/24 bit.
Great control with main keyswitch patch: see Keyboard Map.
Bonus "Hand Percussion" patch – top open and closed slaps, left- and right-hand side slaps and flam hits, all with 3 velocity layers (flam has 2 velocity layers) and 4x round-robin.
The Front Porch Washtub Bass costs $44.99 USD. Requires Kontakt 5+ full version.
More information: Front Porch Band / Washtub Bass