Fsynthz has released Prognum a MIDI utility instrument plugin for Windows.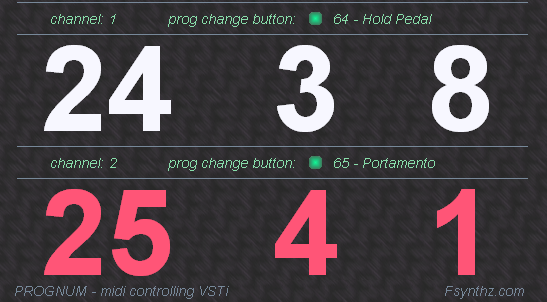 A MIDI processing VSTi, suited for two purposes:

indicating current MIDI program IN BIG NUMBERS (both the 1-128 value and grouped by 8)
browsing MIDI programs of a subsequent synth up and down with one single button, assignable to any MIDI controller (examples are: sustain pedal #64, portamento switch #65). Short hit on the button is one program up, long hit (>1 sec) – one down.

Two synths (two channels) may me managed with one instance of Prognum.

The second processing tract features responsibility to the program-changing button on all channels – while sending the resulting MIDI prog.change message to the chosen (destination) channel only.
So you don't have to switch your MIDI keyboard to the 2nd MIDI channel to send a prog.change to the 2nd synth (e.g. a groovebox).
Prognum is available to download as a freeware VST plug-in for Windows.
More information: Fsynthz